In today's predominantly digitalized world, it has become difficult for online retailers to keep up with consumer behavior and compete in the highly competitive market.
Online retailers need more advanced and reliable features to survive in this competitive market. And if your current eCommerce platform is not providing the necessary benefits, then it's a sign to migrate your eCommerce store to Magento/Adobe Commerce.
And why?
Nearly 9% of online retailers have migrated their website to Magento because the platform brings so many conveniences and benefits.
Magento/Adobe Commerce is an avant-garde open-source eCommerce platform that scales quickly and offers online retailers the ability to manage their product catalog and product filters seamlessly.
If you too, are looking to migrate to Adobe Commerce, read our blog to learn the essentials of the Magento/Adobe Commerce migration process.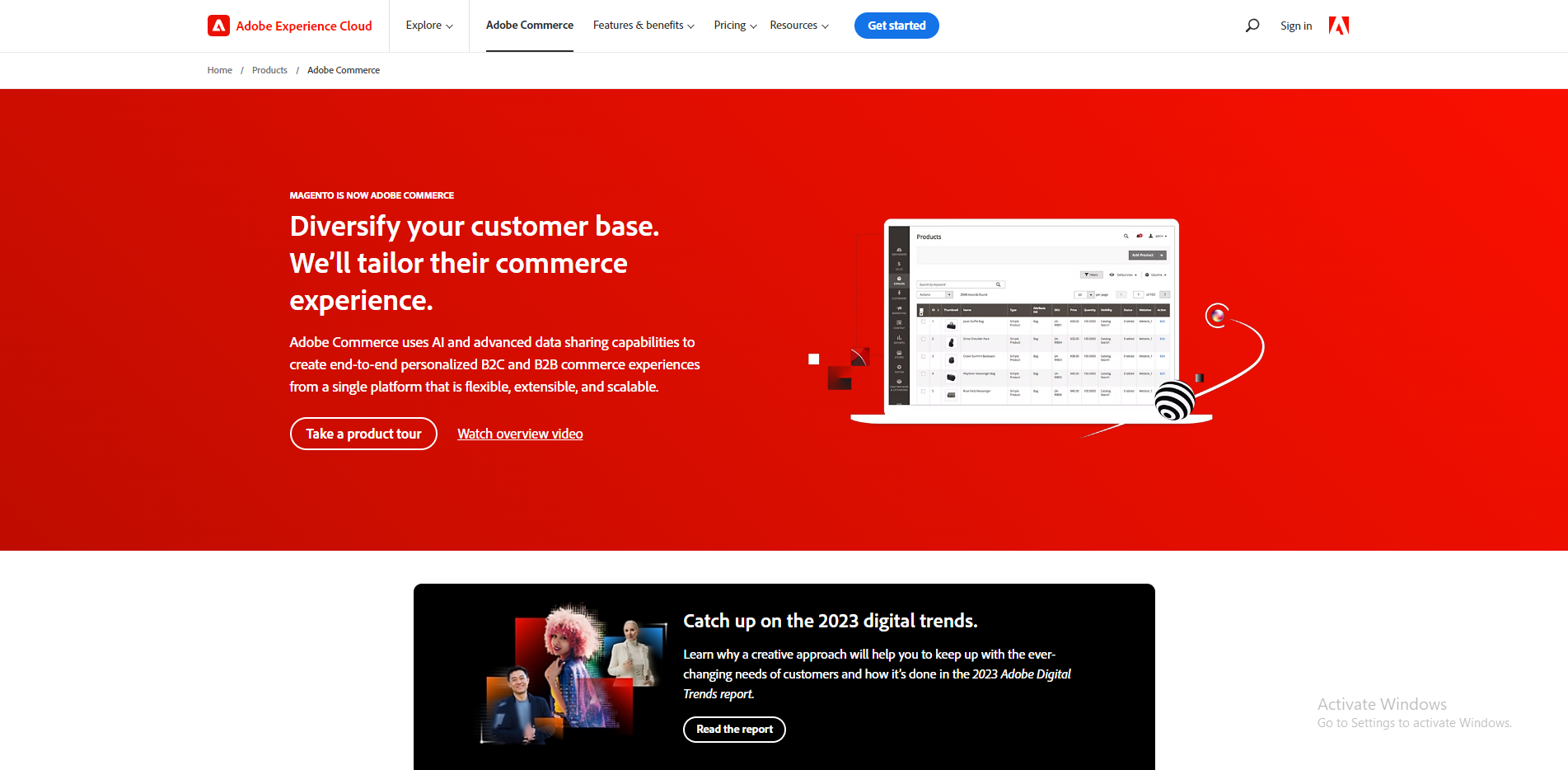 Benefits of migrating to Magento/Adobe Commerce
Magento/Adobe Commerce is taking the eCommerce landscape by storm. This has led to more and more people moving their eCommerce store to Magento, as the open-source platform can boost sales and ROI, making it a preferred choice for marketers and developers. Here are the additional benefits of migrating to Magento/Adobe Commerce.
Scalability & Performance
Scalability and better performance are effective weapons of Adobe Commerce and give it a competitive edge over the other eCommerce platforms. Regardless of the number of stores you want to open, you can effectively store all the data, adding new products at any time and increasing operational efficiency on the back end. Besides, it uses Varnish, a robust caching tool, to improve your online store's performance.
Customizable
Magento is an open-source platform that allows you to customize your website, from the design to the basic structure, categories, etc. It also has various plugins and extensions for payment processing, shipping, inventory management, and accounting.
However, you should keep in mind that switching to Magento may require a complete recoding. Therefore, you should work with an Adobe Commerce development company with an experienced developer team.
SEO Focused
The ultimate goal of an online business is to increase traffic to your eCommerce store. Adobe Commerce is an extremely efficient platform for SEO and allows your products to appear on Google. It also lets you add SEO-friendly meta descriptions, URLs, tags, sitemaps, and so on, which give you higher SERP rankings.
Did you know that 57% of internet users say they would only recommend a business with a well-designed website on mobile? So when you build your eCommerce store on Magento, you get a mobile-ready and compatible website. This is a big plus because an eCommerce store compatible with all screen sizes and browsers can help you get better rankings in search results.
Easy to integrate
With Magento/Adobe Commerce, companies can add third-party integrations very quickly. For example, companies can integrate data management, order tracking, Google Analytics, shipping, etc., to create a robust backend system and speed up the marketing process.
Flexible Content Management System
One of the key benefits of migrating to Magento/Adobe Commerce is the flexible CMS. Magento has a built-in, intuitive and easy-to-use page editor. With the WYSIWYG (What you see is what you get) tool, even website users without technical knowledge can easily edit the web pages.
Advanced Reporting Features
Magento offers advanced and data-driven reporting features that give you a comprehensive overview and insights into orders, customers and products.
Live Search Feature Powered By AI
The Live Search feature, launched by Adobe Commerce, is powered by AI (Adobe Sensei) and delivers lightning-fast, intelligent, and relevant results for every customer query, improving their user experience. It is based on a robust algorithm that ensures customers receive personalized SERP results in real-time.   
Security
Magento strictly adheres to security compliances and data encryption policies. Regular security updates and patches provide a secure platform for eCommerce businesses. Moreover, Magento's dedicated security center provides best practices and resources for securing your online store.
Seamless Checkout & Payment Gateways
Magento offers a user-friendly payment gateway and a smooth checkout process. In addition, it supports popular payment gateways like PayPal, Stripe, etc., ensuring a secure and hassle-free shopping experience for your customers.
In short, migrating your eCommerce store to Adobe/Magento Commerce will take your business to the top because Magento has all the features you need.

Things to know before starting with Magento/ Adobe Commerce migration process
Know the product types Adobe Commerce supports
Adobe Commerce is known for managing an enormous amount of product catalogs. It has divided all product types, such as simple, virtual, downloadable, etc., with the necessary functions to manage them better.
Since your products are tangible items, providing the SKU and weight can help customers understand your product better, and with Magento, you can categorize your product accurately.
Therefore, you should know your product types and position them accurately on your Magento eCommerce website.
Order Status Feature
If you are looking to switch to Magento/Adobe Commerce, it's essential to know that the robust eCommerce platform allows you to generate an order status. This feature allows online merchants to take accurate action and understand the current status of orders in real-time.
Out-of-the-box SEO modules
It's no secret that Adobe Commerce comes with a plethora of SEO modules that reduce the time and cost of studying and mastering SEO best practices. Even an inexperienced SEO can use the SEO elements to skyrocket their store's SERP rankings.
 Magento/Adobe Commerce redirects
Before considering Magento migration, knowing the redirects is also one of the most critical aspects. Magento allows users to choose between 3 redirects: 301, 302, and rewrite (i.e., none).
How to migrate your eCommerce store to Magento?
​Magento migration is a complex process, but with careful planning and execution, it can be done smoothly. Here's a step-by-step Magento migration guide you can follow to ensure a successful Adobe Commerce migration:
Evaluate your current eCommerce store
There is a reason why you are migrating your eCommerce store, and identifying those reasons should be your first step in the Magento migration process. But, first, evaluate your current eCommerce store from a bird's eye view to determine the missing features, functionalities, and data structures and make a list of them.
Plan your migration
Define your eCommerce migration goals and requirements in advance. Next, determine what data you need to migrate (e.g., products, customers, orders, and categories) and how it should be structured in Magento/Adobe Commerce. Finally, identify tools you can use for eCommerce store migration.
However, a certified Magento developer can make the Magento migration process more efficient and effective.
Set up Magento/Adobe Commerce
Install and configure Magento/Adobe Commerce. Set up the store with basic information, e.g. store name, logo, contact information, etc.
Migrate your data
Use a data migration tool to transfer your data from your old eCommerce platform to Magento/Adobe Commerce. Depending on your technical skills, you can choose the tools because the market is flooded with migration tools for amateurs and experienced IT professionals.
Rebuild your customizations and integrations
If you made customizations or integrations in your old eCommerce platform, you need to restore them in Magento/Adobe Commerce. You can use Magento/Adobe Commerce's extensive extensions marketplace to find the right extensions and integrations for your needs.
Customize the code
As we mentioned earlier, Magento is an open-source platform that requires you to code everything from scratch. So if you want to make similar customizations in your Magento store as you did in your previous eCommerce store, you will have to program them yourself.
Transfer the domain and change DNS
Transferring your domain and DNS to a new server is the next and one of the most crucial steps in the Magento migration process. 
Test and launch your new store
Once you have migrated your data and rebuilt customizations, test your brand new Magento/Adobe Commerce store across various platforms and browsers. Make sure to eliminate all the bugs, data loss, unnecessary downtime, etc. Once everything is good to go, launch your new store and see your business achieving new heights. 
Monitor your new store
 Keep a hawk's eye on your new Magento/Adobe Commerce store to ensure everything runs smoothly. Monitor site performance, security, and customer feedback to identify any issues and room for improvement.
How much will Magento migration cost?
Magento is one of the most popular eCommerce platforms and is widely used by businesses of all sizes. However, if you plan to migrate your online store from an older version of Magento to the latest version or from a different platform to Magento, you might wonder how much the migration will cost.
The cost of Magento migration can vary depending on various factors. Some of them are;
Size & volume of the website 

The complexity of the project

Amount of transferable data and data import 

Functions and features 

Third-party extensions

Additional developments 

Customization, etc. 
Typically, the cost of Magento migration can range from a few thousand dollars to tens of thousands of dollars based on the project's complexity, the amount of data to be migrated, third-party integrations, plugin development, customization, etc. 
To get a more accurate estimate of the cost of Magento migration for your specific project, it's best to consult with an expert Magento development company like eGlobe IT Solutions. They can provide a detailed quote based on your requirements and the project's scope.
It's important to note that while the cost of Magento migration may seem high, it's often worth the investment in the long run. By upgrading to the latest version of Magento, you can take advantage of new features and functionality, improve the performance and security of your website, and provide a better user experience for your customers.
Adobe Commerce Migration: Final Words
Magento/Adobe Commerce migration requires careful planning and execution. However, with the right approach, you can successfully migrate your eCommerce store to Magento (a powerful and flexible eCommerce platform).
Migrating from Shopify/Woocommerce to Magento/Adobe Commerce is not for everyone, because the Magento migration process requires expertise and programming skills for sophisticated customizations.
Therefore, we recommend that you work with a Magento/Adobe Commerce development and migration company to avoid redundancies during the Adobe Commerce migration process.
eGlobe IT Solutions' experienced developers follow enterprise-level Magento migration best practices and pay attention to details to deliver exceptional results.
If you are ready to migrate your eCommerce store to Magento/Adobe Commerce, get in touch with eGlobe's talented development team that has innovated and enhanced many Adobe Commerce stores.