If you intend to open an online store, you'll soon have to decide between the best eCommerce platforms; BigCommerce vs. Shopify.
While both BigCommerce and Shopify are fantastic in and of themselves, significant distinctions make one platform more appropriate for particular use cases and user categories.
Today, let us explore this further and make a head-to-head comparison of BigCommerce and Shopify.
We will explore their features, cost, design options, and simplicity of use — in other words, everything a person should consider when opening an Online Store Builder.
Shopify vs. BigCommerce: Quick comparison
According to WebsiteBuilderExpert, here is a quick comparison table defining the ratings of Shopify and BigCommerce.
| | | |
| --- | --- | --- |
| | BigCommerce | Shopify |
| Meets Requirements | 4.2 | 4.35 |
| Ease of Use | 4.25 | 4.45 |
| Ease of Setup | 4.2 | 4.4 |
| Ease of Admin | 4.25 | 4.4 |
| Quality of Support | 4.15 | 4.2 |
| Has the product been a good partner in doing business? | 4.25 | 4.4 |
| Product Direction (% positive) | 4.05 | 4.35 |
| Overall | 4.2 | 4.4 |
Pricing & Value – Shopify Vs. BigCommerce
The recurring monthly cost of a plan for e-commerce platform builders is the most crucial element for your budget.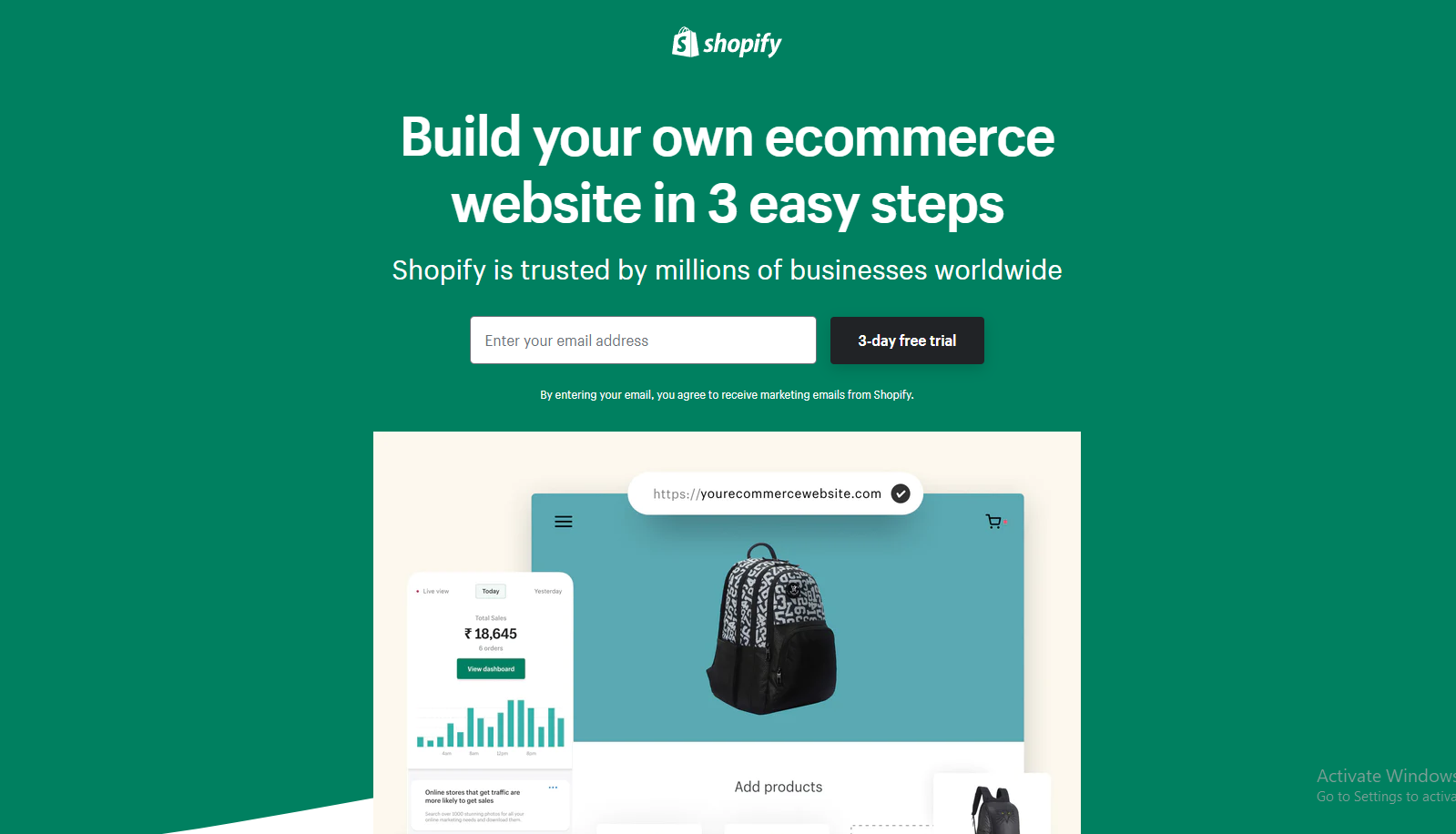 However, other expenses include transaction and credit card fees. So, before comparing the additional costs of Shopify and BigCommerce, let's first discuss monthly plan prices.
A $5/month Starter plan is also available from Shopify. However, it does not include an e-commerce business.
Instead, it only enables you to market your items to consumers using social media sites like Instagram and TikTok and messaging services like WhatsApp and email.
Additionally, it is only accessible during the 3-day free trial period for new merchants.
Let's break down those price ranges for the online store plans now.
| | | | |
| --- | --- | --- | --- |
| Builder | Basic | Medium  | Advanced |
| BigCommerce | $29 | $79 | $299 |
| Shopify | $24.32 | $90.83 | $367.92 |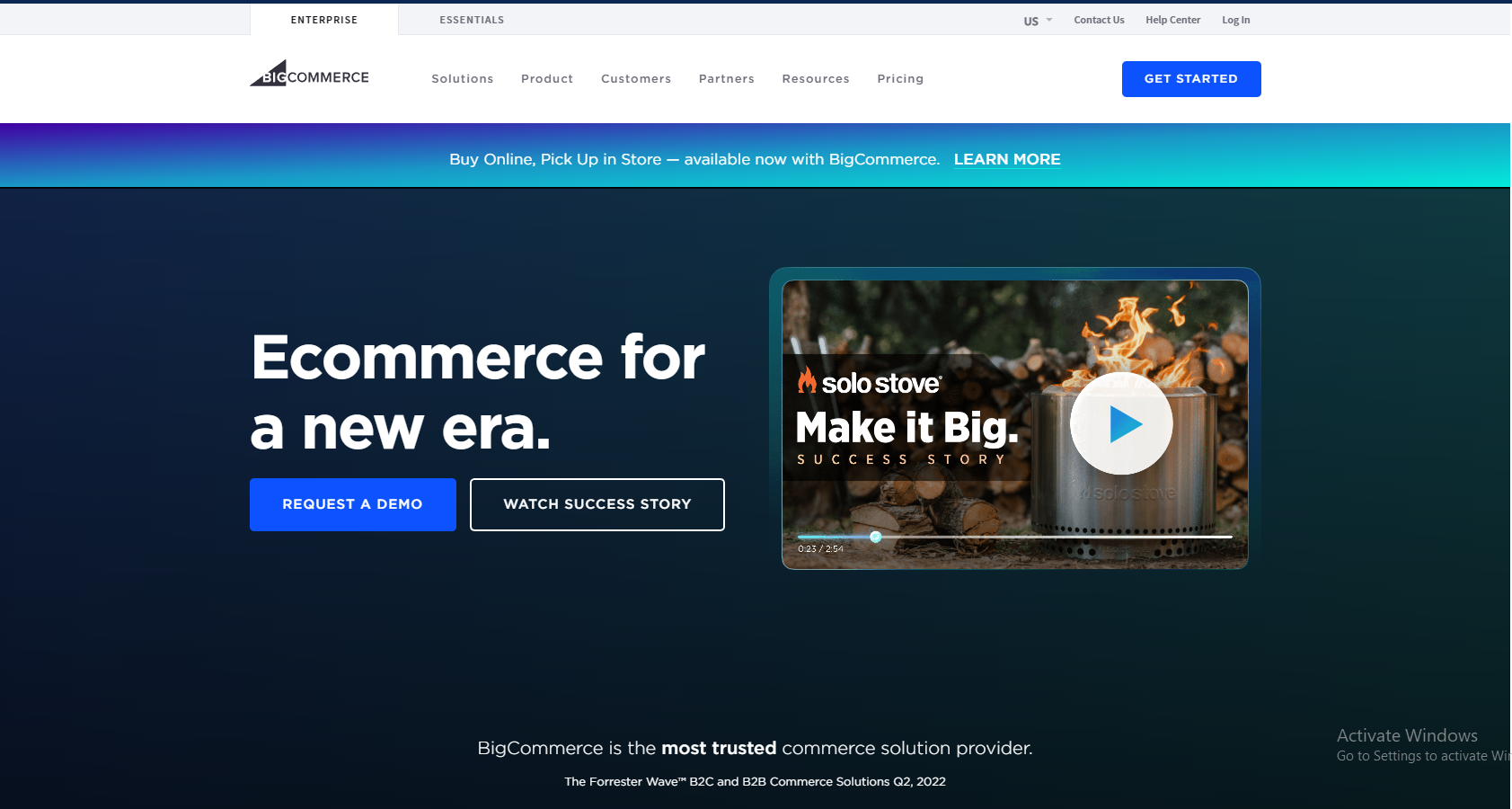 These costs are not all that different at first glance. But when additional fees are involved, there is a difference.
Transaction Fees
A website builder retains the percentage of sales for itself through transaction fees. You'll be glad to learn that none of the BigCommerce plans charge transaction fees.
Shopify levies 2% to 0.5% fees, depending on your chosen pricing plan. Use Shopify Payments if you want to avoid paying transaction fees on Shopify.
Credit Card Fees
Credit card costs are paid to the third-party payment processor you use when you make sales, whereas transaction fees are between you and your e-commerce platform.
There are numerous payment processors available. For instance, BigCommerce has over 65 connectors, whereas Shopify has over 100.
Some payment processors BigCommerce and Shopify recommend have made discounted rates available for customers.
Both Shopify and BigCommerce advocate their in-house payment options, which incur a fee of 2.9% + 30 per transaction. BigCommerce also suggests using the widely used PayPal.
Performance Test Results: BigCommerce vs. Shopify
We built a straightforward store with each platform and experimented with various management and customization procedures to evaluate the performance of Shopify and BigCommerce.
With Shopify, getting started is simple. To make an account, click the "Start free trial" button on the e-commerce business website and fill out your email address, password, and store name.
Shopify can offer you pertinent training materials considering your experience level. After which, it will navigate you to the management dashboard.
BigCommerce's registration procedure is comparable to Shopify's. Within minutes of creating an account, you should be able to access your dashboard.
This is the point at which Shopify and BigCommerce diverge. Although the BigCommerce administration dashboard has a beautiful design, it is so jam-packed with cutting-edge functionality that it can take time to know where to begin.
On the other hand, Shopify offers a detailed checklist of your actions to launch your e-commerce business. In addition, you'll notice a link to a video describing how to start immediately, which is quite helpful.
Besides, Shopify makes continuous customer and inventory management simple. You can access numerous management portals by clicking the links on the left side of your main dashboard. To add even more functionality, you can add apps.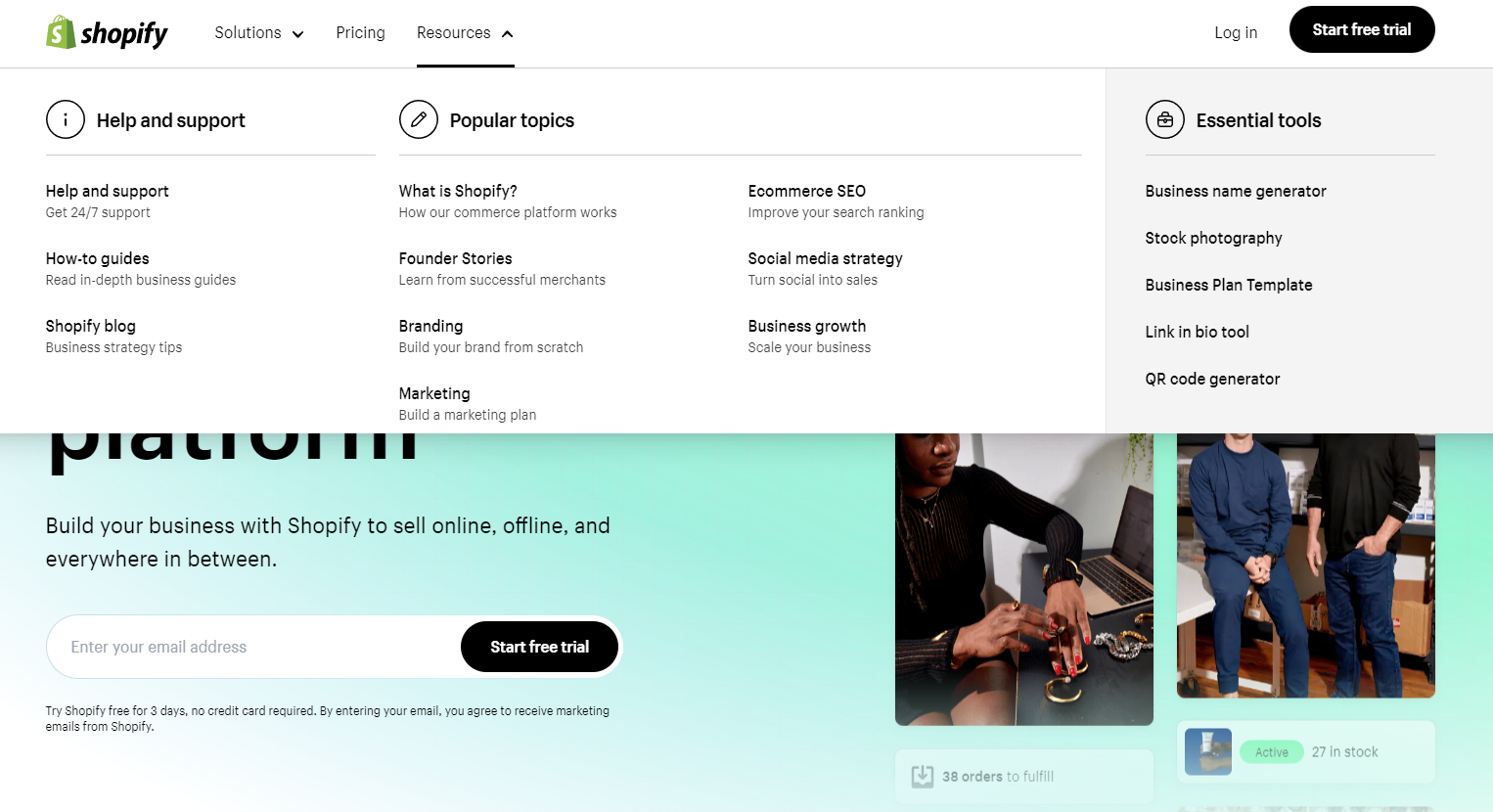 BigCommerce offers cutting-edge capabilities for managing your customers' and products' inventory. However, we found it challenging for customers without proper computing backgrounds to utilize them properly.
Features: Shopify Vs. BigCommerce
If you compare Shopify vs. BigCommerce regarding the features offered, we have much to discuss. Both provide a vast array of functionality and support stores of all sizes.
Let's examine how they compare to one another in the section below.
Templates
Shopify offers 81 layouts in their marketplace called Shopify Themes. Ten of them are gratis, while the other seventy-one cost money. Costs for the premium designs range from $150 to $350.
In addition to this, you can upload original pieces to Shopify. These can be created from scratch or bought from e-commerce platforms.
Surprisingly, the BigCommerce Theme Marketplace is comparable. There are 189 themes available. However, only 12 of them are free. The premium themes range from $150 to $300, making them comparable in price to Shopify's.
BigCommerce allows you to upload unique pieces from other sources as Shopify does.
App Marketplace
Shopify and BigCommerce have sizable app marketplaces with various extensions—from plugins for product reviews and marketing tools to drop shipping integrations.
Over 4,200 apps are available in Shopify's App Store. In addition, several free trials and tiered pricing structures are available for free and premium choices.
There are fewer extensions in the BigCommerce app store—just over 800. You should be able to discover anything that makes maintaining your Online Store Builder, but there is still a lot of value here.
Sales Channels
Shopify and BigCommerce let you sell through various sales channels, as most top e-commerce systems do. Your store will probably be one of your primary sources of income, but when managed properly, there are a lot of other possibilities too.
With Shopify, you can combine your eCommerce and brick-and-mortar sales by connecting to the point of Sale (POS) system. You can easily add a buy button to an already-existing website or blog. You may sell directly to your fans using social media connectors like Facebook and Pinterest. Even links to sizable marketplaces like eBay and Amazon are possible.
However, BigCommerce features social media, third-party marketplace connectors, and POS connections via Clover POS(opens in a new tab).
It does not provide a buy button. Due to this, Shopify might be a better choice for companies that sell their products on various websites.
Integrations: BigCommerce Vs. Shopify
Unlike BigCommerce's shop, which has over 600 apps, Shopify offers over 2,000 apps and several connectors. It's not always about quantity, though, as you say. Also, both have some integrations built-in.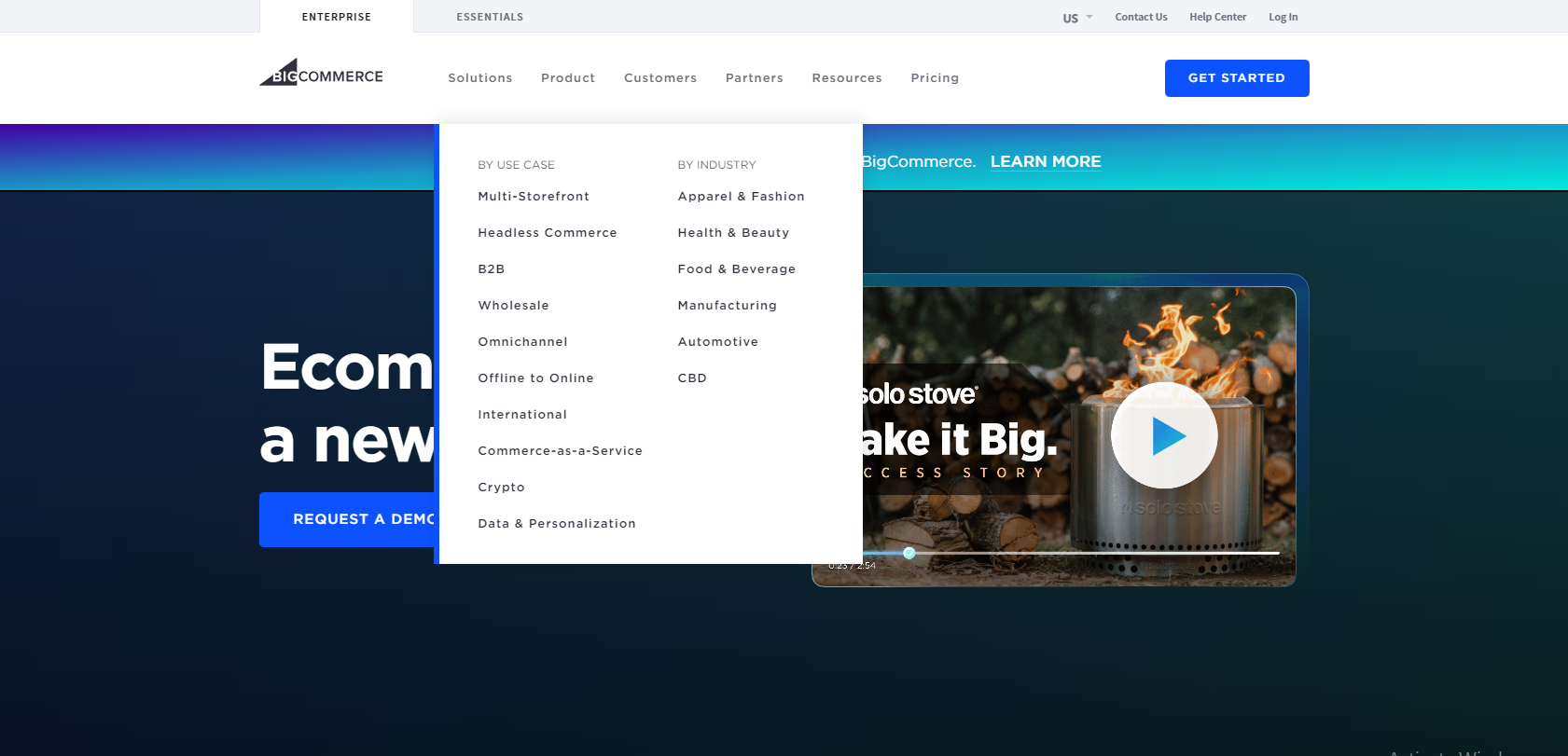 Both Shopify and BigCommerce acknowledge the need for some store owners to handle various channels from a single dashboard. For example, you can sync your website storefront with Amazon, eBay, and social network stores. Also, both support connecting to Google Product data feed.
Several Shopify extensions are free to use, but if you're looking to customize your store further, you may hire a Shopify developer from Toptal. You may anticipate paying anything from $15 to $50 monthly for the premium. For an excellent BigCommerce app, you should be ready to pay between $20 and $50 monthly.
Shopify Vs. BigCommerce: Ease Of Use
Your e-commerce platform and online store must be simple for you, your staff, and your customers. If not, neither your price nor your features will matter because everything will crumble rapidly.
Here is the complete difference between Shopify and BigCommerce in terms of ease of use:
User Navigation Panel
Both platforms ensure a user-friendly interface. However, Shopify's interface is intuitive and more responsive than BigCommerce's. In addition, the drag-and-drop interface of Shopify is beneficial for beginners, whereas BigCommerce's interface can be a little more complex.
Templates and Themes
Both platforms provide diverse themes and templates, but Shopify offers more options and is generally easier to customize. BigCommerce themes are also customizable, but making changes requires more technical knowledge.
Apps and Integrations
You can integrate many third-party apps and tools to get the best out of both platforms. On the other hand, Shopify has a more extensive app store with more options than BigCommerce.
What BigCommerce Offers?
When you dive deeper, BigCommerce is known for its complicated terminology and a feature set that occasionally gets in the way of itself.
The initial setup is user-friendly, though, as you'll need to respond to a few straightforward questions so that the online store builder can help you customize a website for your company and goods.
Read about the importance of technical expertise in BigCommerce here.
To assist in creating your e-commerce site, the BigCommerce online store builder queries you regarding your sales operations.
Users' opinions of the BigCommerce dashboard vary after the first setup because it has many functions and might be challenging.
The fact that the editor requires command-line operations for updates makes it tough to adjust themes. In addition, bigCommerce pages occasionally load more slowly on mobile devices, impacting search engine rankings. Speed is a problem. Talk to an expert BigCommerce development company and get a stunning eCommerce solution online quickly.

What Shopify Offers?
Instead of developing your online store builder piece by piece, as soon as you decide on your strategy, you'll already have a working store to tweak and improve. In addition, the pre-made templates assist in maintaining the consistency of your store's look, and the dashboards and toolbars are simple to use.
Thanks to Shopify's navigation menu, all aspects of your e-commerce business are easy to access. Source: the author
The screenshot above shows how simple it is to sell goods on Facebook and Instagram. If an offline sale occurs, you can change inventory levels right away. Although the standard features are less robust than those of BigCommerce, the degree of customer assistance from Shopify allows you to make the most of what's available.
Talk to Shopify web development experts.

What's The Better Website Builder For Selling Online?
The best website builder ultimately depends on your unique requirements. For example, Shopify is better if you're a boutique or established on a dropshipping business model. However, BigCommerce is a better choice if you're a much bigger brand managing a lot of SKUs.
Both e-commerce businesses generally meet the critical criteria for an online shopping cart. However, BigCommerce is more likely to move merchandise off your virtual shelves.
Both platforms support a wide range of payment gateways, offer excellent customer service, offer a ton of templates, are feature-rich, provide more functionality by allowing the integration of widgets and third-party apps, provide SEO optimization tools, and integrate with well-known email marketing platforms.
Top Brands Using BigCommerce
As per reports, some of the top brands using BigCommerce are
Skullcandy: A well-known audio brand best for headphones and earbuds
Ben & Jerry's: A famous ice cream brand best known for their uniquely delightful flavors
Toyota: One of the best-known and leading automotive manufacturer
Vodafone: A famous telecommunication company with a vast global presence
Top Brands Using Spotify
Learn about the top brands using Spotify from the following:
Kylie Cosmetics: A luxury beauty cosmetic brand owned by the famous personality Kylie Jenner
Nestle: A renowned food and beverage company that also owns other brands like Nespresso and KitKat
Tesla: A luxury electric vehicle manufacturing firm that sells most of its merchandise using Shopify
The Economist: A famous news magazine that offers its subscription through this platform
Final Verdict: Who Wins?
Both platforms have a definite advantage. They outperform all other e-commerce business options. But ultimately, it boils down to your business strategy and personal preferences.
Using BigCommerce vs. Shopify is a no-brainer. Just be sure the platform you are considering has the features you require.
Also, if you are a startup that wants to outsmart the competitors with the right platform, whether BigCommerce or Shopify, our exceptional team of web developers is ready to cater to your business needs immediately. Talk to our experts. We are just a click away from you.
FAQs
Q1. Who Uses BigCommerce?
Ans. Companies including Yeti, Skullcandy, Pandora Jewelry, and Ben & Jerry's use BigCommerce to manage their online presence.
Q2. Who Uses Shopify?
Ans. Several well-known firms use the Shopify Plus subscription model. In addition, many brands like Heinz, Jenny Craig, Huel, Red Bull, Gymshark, Kylie Cosmetics, Kim Kardashian, and Bombas use the Shopify platform to manage online shops.
Q3. What's a Better Platform, Shopify or WooCommerce?
Ans. It depends on what you want and need, is the brief response.
WooCommerce is the most excellent option if you want something affordable that allows you complete control over your store. In addition, since it is open-source, you can customize it to fit your unique needs.
Shopify is the best choice if you want something that includes hosting and is expandable.
Q4. How Many Companies Use Shopify?
Ans. As of 2023, Shopify is used by over 4.4 million websites across 175 countries globally.